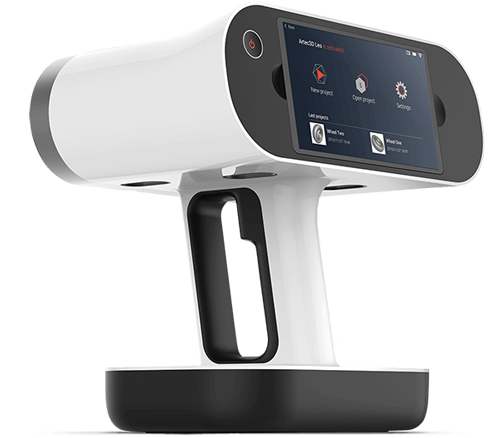 Artec Leo Wireless 3D Scanner: View Your 3D Render in Real Time
Meet the Leo, Artec's New Handheld 3D scanner. Artec's scanners accuracy, resolution, ease of use and color capture have made them an industry standard. The Leo builds on this, with greater mobility, new wireless system, rechargeable swap-able batteries. Scan faster with built-in position trackers, a staggering 24fps 3D reconstruction rate, and Artec's industry-best hybrid tracking. Scan with ease and confidence. The Leo brings an industry first onboard processing for easier imports and faster workflow. View and manipulate your data on the built-in touch screen to ensure your never miss a bit of data. Get it here at Reality 3D, your top reseller of 3D scanners in Denver.

Wireless, Mobile Scanning
The Artec Leo wireless handheld 3D scanner takes advantage of a powerful built-in processor and battery to provide you with unrivaled scanning freedom. The scanner can be held easily with one hand, allowing you to carry other equipment and walk around freely to get the perfect scan. Need to head to remote areas without power? Purchase supplementary batteries that give you an extra charge for unlimited 3D scanning — no matter where you are.

Incredibly Easy To Use
Wireless connectivity and an intuitive touch-screen make it incredibly easy to get the scans you need. You can move freely while scanning, stream video to a second device through a Wi-Fi connection for better visibility, and upload your data in seconds. The Leo's seamless, durable, and well-balanced design makes it the most user-friendly wireless 3D scanner on the market today.

Robust & Intelligent Technology
The Artec Leo is jam-packed with powerful technology, including an internal computer with quad-core ARM® Cortex®-A57 MPCore CPU and NVIDIA Maxwell™ 1 TFLOPS GPU with 256 NVIDIA® CUDA® Cores, an accelerometer, a compass, and a gyro that help the 3D scanner understand its movement and position better than any scanner out there. A two-in-one optical system allows for exact texture match and geometry mapping that's accurate down to the millimeter.

Wide Variety Of Applications
The Artec Leo captures objects as large as boats and as small as coins — all with pinpoint color/texture/size accuracy. The Leo is also an excellent choice for the scanning of organic objects like the human body and crime scenes. The robust internal processor combined with its wireless capability makes it a versatile 3D scanner that can help you tailor your scanner to your specific industry.
Get Your Artec Leo Today
The Artec Leo is the perfect professional-grade 3D scanner for your needs — and it gets even better when you purchase your Leo from Denver's 3D scanning experts at Reality 3D. We're happy to help you choose the perfect scanner for your needs, pair it with cutting-edge software, and give you the education and supplementary tools you need for the best possible scanning experience. Call us directly for pricing today.