DISCOVER THE ARTEC SPACE SPIDER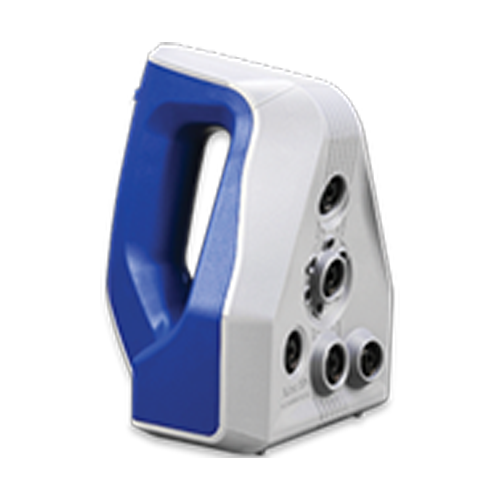 AN INDUSTRIAL 3D SCANNER WITH METROLOGICAL ACCURACY
The Artec Space Spider 3D scanner is a robust and capable machine that has become an industry standard for CAD users, engineers, and other professionals. It offers unfathomable precision (up to .05 mm accuracy without the use of targets), vivid capture of fine details on small objects, and virtually limitless possibilities for manufacturing, reverse engineering, product design, and industrial projects. Get your Space Spider from Reality 3D, your source for 3D scanners in Denver.

Fast Scanning Speeds
At 7.5 fps and a processing rate of 1 million points per second, scanning with impeccable accuracy doesn't have to take all day.

1.3 Mpx Texture Resolution
The Artec Space Spider creates a full-color 3D replica of your object, no matter how detailed. This scanner can even accurately render the ridges of your fingerprint!

Limitless Possibilities
The Artec Leo is jam-packed with powerful technology, including an internal computer with quad-core ARM® Cortex®-A57 MPCore CPU and NVIDIA Maxwell™ 1 TFLOPS GPU with 256 NVIDIA® CUDA® Cores, an accelerometer, a compass, and a gyro that help the 3D scanner understand its movement and position better than any scanner out there. A two-in-one optical system allows for exact texture match and geometry mapping that's accurate down to the millimeter.

Battery Compatible and Portable
Connecting your 3D scanner to an Artec Battery Pack gives you a full six hours of portable, uninterrupted scanning. No matter where you travel, you'll have a functional 3D scanner at your fingertips.
Safe And Easy To Use
Blue structured light technology is completely safe for scanning humans and inanimate objects. A sturdy grip and a light, yet powerful design creates an exceptionally easy scanning experience.

Point And Shoot Capability
No need for targets, calibration, or any sort of pre-scanning mechanism. Turn on your Space Spider, point it, and shoot — just like you would with a video camera.

Easy Bundling and Syncing
For larger objects, multiple 3D scanners can be synced together and fully integrated for real-time scanning that maximizes efficiency and effectiveness across the board.
Choose the 3D Scanner Experts
If you're looking for a precise, heavy-duty, and powerful 3D scanner with pinpoint accuracy, the Artec Space Spider is the perfect choice. However, a scanner is only one aspect of a 3D scanning system. At Reality 3D in Denver, we help you pick out the perfect 3D scanner for your specific application, pair it with high-end processing software, and give you the educational tools you need to get the best scans possible, right out of the box. Call us directly to get started.