DISCOVER THE ARTEC MICRO 3D SCANNER
Your Professional High-Accuracy Industrial Desktop Scanner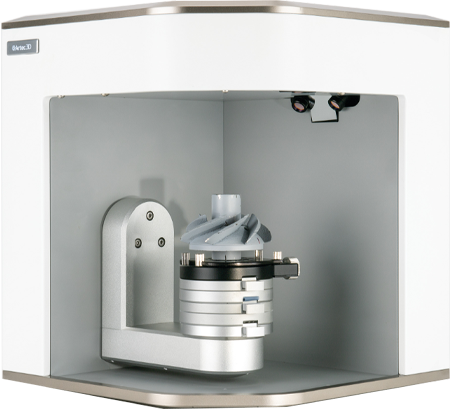 Scan Small Machine Parts, Jewelry, and Dentistry.
Meet the Artec Micro, a new industrial desktop scanner. This 3D scanner offers metrology 3D scanning technology alongside other impressive features. The Micro can scan within 10 microns so that you can get super precise; it's fully automated and allows you to start and stop the process with a click of a button; and it offers one-click 3D scanning use, which gives you the control and freedom to scan how you see fit. Finally, the Micro integrates with the Artec Studio software so that you do not have to buy more software if you're already using other 3D scanners.
Artec Micro 3D Scanner
Features & Benefits
You want ease of use, quality of renderings, and precision of scanning. Reality 3D can offer all three and more to you with the Artec Micro industrial scanner. With user-friendly, cutting-edge desktop scanning, you can capture objects with 10 microns of accuracy. Your ability to scan accurately and with the highest level of rendering detail is paramount. That's why we continue to bring you scanners like the Artec Micro.

User-Friendly Scanning
When it comes to most micro scanners, they are heavy and cumbersome. They require a clear space on a desk or table. The Artec Micro changes the game with a compact, ready-to-scan capabilities unseen in the industry. Not only are you able to mount the scanner to nearly any circular scanning platform, but you can scan in seconds after the Artec Micro is mounted. Remember the one-click scan feature we mentioned earlier? This is where the Micro shines. It can be setup and scanning in minutes, delivering unprecedented 3D rendering quality and accuracy.

Cutting-Edge Desktop Scanner
You want the highest quality rendering of your product or object. The Artec Micro delivers this with advanced twin cameras and perfectly synchronized micro dual-axis system. As the Micro scans your object or product, it utilizes blue LED lights to capture a virtually perfect rendering. If you want the ultimate digital copy of your object with the minimum amount of frames captures, the Artec Micro is for you.

Robust Software
While the Artec Micro is a technologically advanced 3D scanner, it also pairs with an unprecedented digital software, Artec Studio. The combination of the Micro and this software makes for micro scanning and rendering seamless. Export your 3D scans to other softwares like SOLIDWORKS, PolyWorks Inspector, Control X, and Design X with ease. Spend less time scanning and more time on your project — even though you'll love using the Artec Micro.
Artec Micro 3D Scanner Applications
Where the Possibilities Are Endless

Quality Inspection
You demand high quality renderings and digital data. Across many industries, this is the standard. When you need to implement quality inspections to ensure your work is at top quality, you can trust the Artec Micro with accuracy down to 10 microns. The Micro can "see" well below human vision at 40 microns, and its 3D measurement is the best in the industry, making it a perfect choice for checking quality.

Reverse Engineering
The Artec Eva weighs less than 2 lbs, making it one of the lightest and most powerful handheld 3D scanners in the industry. Pair your lightweight 3D scanner with a portable battery that has six hours of interrupted scanning, and you have a truly portable scanning solution.

Cultural Heritage Preservation
In just minutes, Artec Micro can help you capture highly detailed 3D models of small cultural objects. Once scanned, these models can then be studied by experts and shared with other researchers digitally, saving time and money. What's more, you can take your 3D scanning data and 3D print what you've scanned.

Jewelry
No more do you need to rely on calipers and tracing methods. Intricate jewelry, such as rings, pendants, bracelets, cameos, and more, can be scanned, captured, and rendered in minutes. All you need is the Artec Micro and the Artec Studio software to do so. You can also leverage 3D printing hardware to take what you've scanned and recreate it with the adjustments or modifications you've made in your 3D software. Use the Artec Micro to save thousands of dollars and hours of time.

Dentistry
The modern dental practice requires high-quality rendering of real-world products and instruments. When it comes to molds, crowns, and more, you must make the perfect piece every time. You can scan single teeth, entire arches, or portions of the mouth to get a quality 3D rendering. You can export your scans from Artec Studio to software like ExoCAD and others to continue your work. If you want to make exact digital productions of your crowns, bridges, inlays and onlays, dentures, custom abutments, implants, and more, get your Artec Micro today.
Choose the 3D Scanner Experts
If you're looking for a precise, heavy-duty, and powerful 3D scanner with pinpoint accuracy, the Artec Micro is the perfect choice. However, a scanner is only one aspect of a 3D scanning system. At Reality 3D in Denver, we help you pick out the perfect 3D scanner for your specific application, pair it with high-end processing software, and give you the educational tools you need to get the best scans possible, right out of the box. Contact us directly to get started.