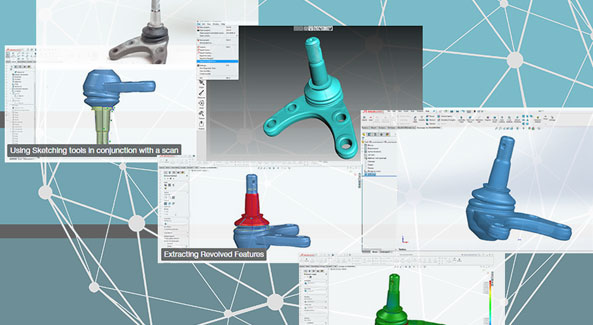 Geomagic For Solidworks puts the power and capability of Artec Handheld 3D scanners in the hands of professionals and designers who need it. This plugin for the industry stand and market leading CAD solution brings a new level of functionality to established workflows. The full suite of power full Geomagic tools are built to take your scan data and turn it into usable Solidworks data. Edit meshes, Create Ref planes, and use the parametric tools you know to create Professional models.
Capture complex and difficult geometries with your Artec 3D scanner and directly import them into Geomagic for Solidworks to create designs informed by the real-world. Create cross sections to capture sketch data on mechanical parts. Use Geomagic's industry-best NURBS-based auto surfacing for organic and freeform shapes. Check the deviation between your parametric, or Autosurface, and your scan data to ensure your parts are manufacture-ready, professional grade, and accurate.
Tag complete and accurate models — no matter the geometry.